Visit Intel - Learn how we close the gap between sales and marketing
Category
None
Bookmark :







Closing the gap between Sales and Marketing has been something that many organizations have been trying to solve for years.
Communication between the two seems to never be that great for many reasons.
Visit Intel can CLOSE that gap between the two very easily.
The Marketing team targets (in theory) the correct people to sell your products/services to with various tools ranging from...
Targeted email campaigns, news letters , press releases
Advertising
Promotions
Etc.
Then....the resulting leads from the various marketing strategies should flow to the sales people so they can close business. Marketing and sales should be communicating a consistent message. :)
Sales people should reap the rewards of the work performed by the marketers.
But if sales has no idea as to what Marketing is doing and if the Marketing department is creating leads that sales can not work with or worse never receive ...problems occur and the blame game begins.
Marketing blames the sales people for not being able to close deals with all the leads they provided and sales blames marketing for sending them the wrong type of leads.
This is where Visit Intel comes in to the picture.
Visit Intel sends automatic SITE ALERT emails when someone from a company clicks through your website.
The Visit Intel Site Alerts that are emailed to you....give many details about the visitor including how they found you.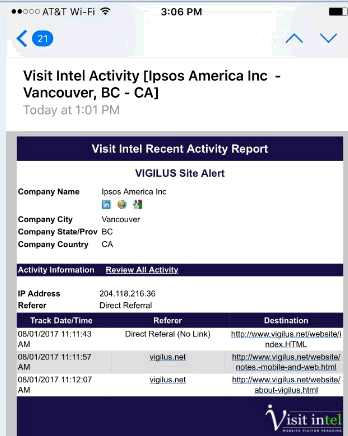 So through out the day these Visit Intel Site Alerts are getting emailed to you as people visit your website. As someone who has been a sales person for 20 years and who eats what I kill...getting these alerts are priceless.
However to Marketing folks...they can get annoyed by all of these Site Alert emails.
I am seeing for some reason...the marketing departments are reluctant to share and direct the Visit Intel Site alerts to the sales people who would LOVE to have a lead come their way.
Remember...Visit Intel REPORTS ON ALL VISITORS even existing customers.
So you can service existing customers better because you can see what content on your site they were interested in and....you can sell to NEW PROSPECTS in the same way. This information is invaluable. Visit Intel makes ALL leads warm.
Marketing should not feel left out. Visit Intel will provide value to them as well.
The Marketing team has access to the Visit Intel Nurture Portal where they access the Macro Trends and analyze the results of their various marketing strategies.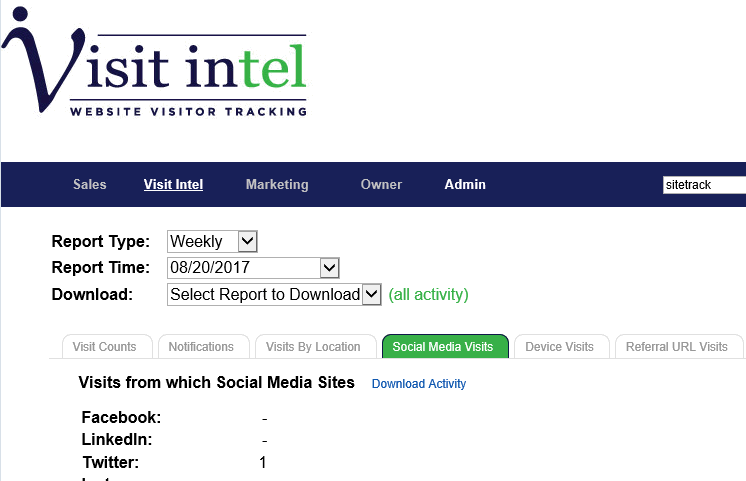 To summarize this post...Visit Intel closes the gap between the Marketing and Sales teams within an organization.
The Visit Intel Site Alerts that get emailed are really more of a sales tool and should be directed to your sales team.
The Visit Intel Nurture Portal is for the Marketing people to slice and dice data for macro trend analysis regarding ...
who is visiting your website
how they got there
what they are doing once there
Try a full blown version of Visit Intel with no obligation to move forward at the end of the trial period by clicking here.........https://visitintel.com/2ZR5YS29XXOEX.html