What happens when YOU are NOT connected?
Category
None
Bookmark :







My car was skidding all over the place.
I had been warned but I did not believe a huge nor'easter would really hit us with 16 inches of snow in the month of October.
My wife and I had to be on Long Island for a family party and we live in CT.
She was also 7 months pregnant at the time.
My mother offered the day before to put us up in a hotel but we respectfully declined and decided we wanted to drive home.
Wow was that a mistake.
I had never seen conditions worse in my life and I live in an area where it gets pretty bad in the winter.
We got home safe out of pure luck....thankfully.
That was the good news. The bad news is we lost power and would not have it back for another 9 days.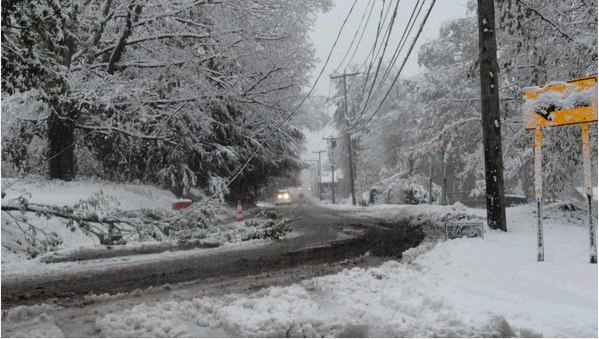 So, we stayed home for a day trying to make the best of it. No power, phone etc.
BUT.....I still had my laptop with a fully charged battery and I needed to do some work in Lotus Notes applications like my product ACT! for Lotus Notes.
I was able to get a lot of work done. Create emails that would later go out once I was in a place where I was connected to a server.
I needed to call some clients and I was able to again because I was working Locally.
And ...it dawned on me. What happens to people when they rely on applications that ONLY work in the cloud.
How would they be productive if not connected? The answer....they are not.
Not having power for 9 days does not happen often although....it certainly seems like it is happening more often then I would like.
We ended up driving back to Long Island and moving in with my mother for a the week.
She had power and wireless internet. As soon as I got there....I got on to her network and was able to send out all the emails I had created locally when I had no power and those emails were sent.
My clients had no idea I had been without power and they did not care....and why should they?
Vigilus never sleeps and is always opened no matter what.
Before your organization decides to go off into the cloud..... make sure they understand the risks.....that's all I am saying.
How often is it that you are at work and the server goes down and everyone stops working.
I bet often.
I am not going to get into all of the other risks like security etc.
Remember when you use
Lotus Notes
applications like email, ACT! for Notes etc, you can use these applications...
disconnected from the server
connected
via a web browser
ACT! for Notes can be used on iPads, iPhones , Androids and Blackberrys

What can your CRM and email system do?