Visit Intel - Website Visitor Tracking Analytics
Category
None
Bookmark :







"We launched our new website in 2016, and implemented Visit Intel from the onset. At first, I wasn't sure of the value it would bring to my business, but now I can't imagine life without it. It provides targeted insight that helps me drive marketing and business development outreach. It takes the mystery out of my process, and allows me to capitalize on potential clients curiosity. It's a B2B game changer!!!"
Above is a Quote from the President of an Executive Search Firm who uses
Visit Intel.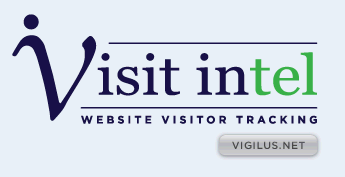 How does anyone know the anonymous visitors who visit your website. The key word there was "ANONYMOUS".
If you are already aware of the contacts that you have been sending email campaigns to from Constant Contact for example...you will see the opens/clicks etc from the recipients of that newsletter. But you already know who those people are and....it only gives you that information from that one mailing.
So much money is spent on advertising and most of what you are buying is based on faith that if you get your message out....you will get eyeballs and clicks on your website resulting in new business.
But what happens when people who you do not know and never met visit your website? Or what happens when your existing customers, prospects, business partners, click through your website?
Wouldn't you like to know that information so that you can proactively turn that activity into a sale?

That is why you need
Visit Intel.
With Visit Intel....when someone who is working for a Company visits your website....the Visit Intel code looks at their IP address and matches it up with the Company Name that is visiting your site.
Visit Intel then Proactively emails a "Site Visit Report" to the correct person in your organization.
The Visit Intel reports tell you ....
- What keywords visitors typed in to find you
- What banner ad or other promotional campaign they clicked on to land on your site
- What Search engine they used
- What Social Media site they used to find you
- What Campaign led them to your site
- What they did on your site
The tool helps to...
- Turn your website visitors into prospects for your sales team or partners
- Track website activity from existing customers for upselling opportunities
- Automatically route proactive Visit-Intel reports to the correct people for their action
- Monitor research done by your competitors on your website
- Measure the effectiveness of your email campaigns and promotions


For more information contact me at jsinger@vigilus.net